Amiable is one of the leading Manufacturer and Supplier in Exothermic Welding Powder and Graphite Mould (Exothermic Mold) having factory located at Vasai – Mumbai, India. We also Supply Exothermic Welding Kit in Kuwait .
Amiable Impex is the Manufacturer of Exothermic Welding and Exothermic Welding Kit and Supply and Export to all over the world.
Exothermic Welding is also known in the Market with different brand names such as AURAWELD, CADWELD, ERICO, EXOWELD, KUMWELL, FURSEWELD, THERMOWELD, AIWELD.
We as Amiable Weld are one of the biggest and largest Manufacturer of Exothermic Weld Powder and Exothermic Welding Graphite Mold in India. Exothermic welding is most commonly used for permanently joining copper conductors.
Get high quality products at quickest lead time with fast response time. We have full customer satisfaction ratio as compare to other exothermic welding manufacturers. Our Products are tested and is as per IEEE 837:2014 international standard. Our Product is CE and ROHS Compliance and we are also certified by ISO 9001:2014.
What is Exothermic Welding ? (Exothermic Welding in Kuwait )
Exothermic welding is most commonly used for permanently joining copper conductors or Copper Tapes / Copper Strips. It is the only acceptable means of bonding copper to Copper cable. Lightning protection and grounding systems require connections that maintain current carrying capacity exceeding that of the conductors used in the system. AMIABLE connections provide higher fusing capacity than the conductors to which they are bonded. It can also be used to Joint not only Copper but also Stainless steel, Cast iron, steel, Brass, Bronze, and other similar metals. For joining two dissimilar metals, exothermic welding is a good option. AURAWELD meets these challenges and delivers assurance.
We Manufacture Exothermic Welding Powder and Exothermic Welds Graphite Mold and Supply and Provide Exothermic Welding Services also in Kuwait- Kuwait City, Al Ahmadi, Hawalli, Al Farwaniyah, Al Fahahil, Ar Riggah, Al Mangaf, Al Jahra, Al Fintas, Janub as Suraah.
Exothermic Welding Process in Kuwait :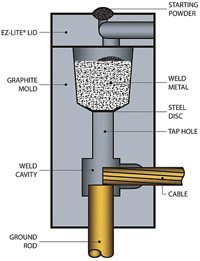 Exothermic Welding Process in Kuwait – The Exothermic Welding process is a method of making electrical connections of copper to copper or copper to steel in which no outside source of heat or power is required. In this process, a special Welding material is placed into a high temperature resistant mold and ignited. The process of igniting the particles creates extremely high heat and molten metal (exothermic reaction) up to 2000 degree celsius, and produces a molten metal slag. This liquid copper metal flows into the Welding cavity, filling any available space and completes the Welding. The Welding is then allowed to cool and solidify before it is removed from the mold. The mold is ready for the next Welding after a brief cleaning with a brush. This entire process takes only seconds to complete. Exothermic Welding connections produce a permanent connection, superior in performance to any known mechanical or pressure type surface-to-surface contact connector.
Exothermic Welding Process
Animated Demo
Exothermic Welding Process
Live Demo
When Exothermic Welding is used In Kuwait ?
Exothermic Welding is required when there is an improper connections between two conductors which are often the reason for electrical malfunctions. A proper connection should have the following characteristics:
Sustain electrical continuity and contact reliability.

Capacity to withstand overload conditions without melting, burning or failing.

Extensive service life. Will not deteriorate, corrode or decay over time, above or below-grade.
LISTED BELOW ARE THE MAIN FEATURES OF EXOTHERMIC WELD:
Molecular bonding of copper and other metals can be made

Current carrying capacity becomes equal to or greater than the conductor

Will not deteriorate with age

Withstand repeated faults

Can be checked visually

No special skills and labor required

Never loosen or corrode

No external power is required for jointing

Easy to handle

Transportabled
Step by Step Process for Exothermic Weld in Kuwait is as follows: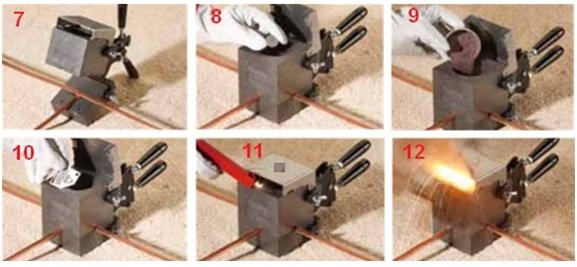 Lets understand the Exothermic Weld Step by Step –
 Follow the given Steps to do Exothermic Welding :
STEP – 1: Always wear protective safety glasses and gloves while working with exothermic welding products.

STEP – 2: Gather all the proper material and equipment/accessories for the type of connection you are making. The typical Weld system requires a graphite mold, handle clamp, welding material, natural bristle brush for mold cleaning, wire brush for cleaning/preparing conductors, flint igniter, and propane torch. Check to ensure the graphite mold is not worn or broken, which could cause leakage of molten weld metal.

STEP – 3: Slide the handle clamp into the pre-drilled holes with the proper orientation for the thumbscrews.

STEP – 4: Tighten the clamp thumb screws onto the mould.

STEP – 5: Close the grips to tightly lock the mold. Make adjustments to tighten/loosen the handle clamp.

STEP – 6: The material to be welded (cable, rod, tape) must be clean and dry using the brush included in the set of accessories. Thus the oxide layer and superficial impurity is eliminated. Given that the graphite mould also absorbs moisture, this should be removed by preheating with a gas welding torch to avoid a porous welding. After the first welding is done, it is not necessary to re-heat the mould if the next welding is done within 15 minutes as it conserves the previously generated heat.

STEP – 7: Place the conductors in the mould and close the handle clamps to avoid material leakages during the reaction.
Please Note – If there is even a minor gap between the two Conductors, apply Sealing Compound at the places where the conductors is passing out else at the time of Welding, the Powder will spread out as a flame resulting in improper joint.
STEP – 8: Obstruct the tap hole with the metallic disk.

STEP – 9: Empty the contents of the welding mixture package.

 STEP – 10: Empty 50% of the starting powder above Exothermic Weld Powder (Don't Mix, just scatter) and than Close the Mould Mouth and than the rest 50% Starting Powder, Sprinkle it on the Mould Mouth nearby the small hole given on the top of the Mould Mouth.

STEP – 11: Ignite the starting powder extended on the top/side of the mould using the flint Igniter.

STEP – 12: Once started, the reaction will take 3-4 seconds during which it is recommended to stand clear of the mould.

STEP – 13: After at least 2 minutes of the bonding, open the mould by undoing the handle grip. Remove the mould from the joint and clean the joint for any slag. Once open, clean the slag sticking to the mould with the relevant tool and clean the cavities. The mould will be ready now to use again without having to re-heat it as it is already warm.
Please Click Here To See More For The Process Of Exothermic Welding.
THE PROCESS OF EXOTHERMIC WELDING IS SAME TO BE FOLLOWED AS SHOWN ABOVE IN Kuwait- Kuwait City, Al Ahmadi, Hawalli, Al Farwaniyah, Al Fahahil, Ar Riggah, Al Mangaf, Al Jahra, Al Fintas, Janub as Suraah.
Exothermic Welding Accessories
We've been providing the highest quality exothermic welding accessories.
Get in Touch !!
[wpforms id="1010″ title="false" description="false"]